Paoli /peɪˈoʊli/ is a town in Paoli Township, Orange County, Indiana, United States. The population was 3,677 at the 2010 census. The town is the county seat of Orange County.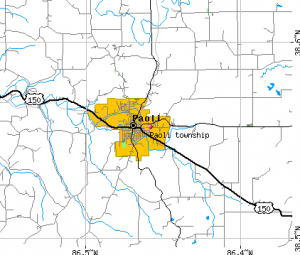 Paoli was laid out and platted in 1816. It was named for Pasquale Paoli Ash, the son of North Carolina governor Samuel Ashe. A post office has been in operation at Paoli since 1817.
In its first decades, it was noted as a Quaker town that played a role in the Underground Railroad by transporting enslaved people from the South to Canada. In the 1900s it became known as the site of the Pioneer Mothers Memorial Forest, a surviving fragment of the once-extensive virgin oak forest of southern Indiana.